Beijing Noodle No. 9 is a casual restaurant inside Caesars Palace. The Asian-inspired cuisine includes hand-pulled noodles, house-made dumplings, dim sum and fresh seafood.
Upon entry, view the chefs making noodles through a large showcase window. Aquariums line the entryway into the restaurant. Continue on to the 100-seat restaurant or to the counter-style seating. There's plenty of action to watch in one of two showcase kitchens and and at the appetizer bar. There is also a wall of special lighting with flower motifs.
If you look really closely, you'll see the noodle master behind the counter tossing and whirling a huge rope of dough.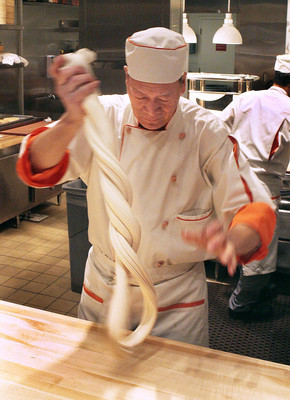 Two crazy huge fish tanks guard the entrance, making the inside of the restaurant feel almost unreal in a surrealistic way.
The whopping 14-page menu at Beijing Noodle No. 9 means you'll never eat the same thing twice. Whether craving Chow Mein, fried rice or a Lychee martini, explore all the savory offerings listed. Walk through a dramatic entrance flanked by gigantic fish tanks and you'll immediately immerse yourself in the energy, reminiscent of the streets of Shanghai, Hong Kong or Beijing.
Las Vegas dining elegance meets authentic Oriental flavor under the direction of Executive Chef Li Yu. Along with a few Asian influences, a plethora of Northern Chinese signatures and specialties are found on the extensive menu. Beijing pancakes, won ton soup, fried rice, and dim sum of all kinds are top picks here, with your choice of vegetables, pork, chicken, seafood or beef. Noodles are a must for any Chinese hot spot and they're hand-made every night at Beijing Noodle No. 9. As a bonus for onlookers, the open kitchen chefs have been intensely trained on how to hand stretch noodles.
Caesars wanted an authentic experience for diners so it entered into a partnership with a Beijing restaurant, moving Chef Yu Li from Beijing to Las Vegas. Beijing Noodle No. 9 looks and feels much like a contemporary restaurant taken off the streets of Beijing.
There are also fresh juices like watermelon, orange and carrot to quench your thirst. Cocktails and other popular Asian beverages are also available.
Although it might be hard to choose your dishes simply because of the menu's size, the variety means you can find a favorite, or jump in and try something unusual. It's family-style here, and dishes will arrive when they are ready to be served, so don't expect a break between courses.
You can get all manner of dishes with noodles here (hence the name), from the fiery Sichuan dan dan spring noodle to the hand-pulled Beijing zha jiang. Soups, rice, seafood, chicken, beef and lamb dishes—there's even a hot pot section on the menu, and certain dishes have suggested drink pairings. The barbecue platter features roast duck, poached chicken and barbecue pork, and comes with sauces that complement each meat. A great feature is all the noodle dishes come in either a small or large size.
This was our second visit to Beijing Noodle No 9. The last one was about 3 years ago.
Manager Christine warmly welcomed us and made sure we had a great experience.
As I mentioned, the menu is 14 pages long so we were hoping for some suggestions.
The Green Onion Pancakes were highly recommended so we started off with those. ($8.99)
We both thought these were very good. Not quite the onion flavor I was expecting but still very good.
Next was Cucumber with Ginger sauce: ($7.99)
These were delicious. The Ginger sauce really elevated this dish.
Next was Steamed Spare Ribs. I was expecting a typical Spare Rib. These were small bits of ribs. They were just OK. Steaming seemed to
take some of the flavor away from them.
We decieded to share three main courses for lunch.
The first was Kung Pao Chicken with Peanuts ($16.99) Dorene's choice.
This was my first time trying this dish. I am not a big fan of food cooked with peanuts or in peanut sauce. I really enjoyed this dish.
Peanuts and chicken were both cooked perfectly and the sauce was not overly spicy.
Next up was Beef with Asparagus in Black Pepper Sauce ($23.99) Steve's choice.
I asked for a low level of spice and that's exactly what I got.
As you can see, this dish was loaded with perfectly cooked beef and tender asparagus. We both thought this was one of the best dishes
on our trip.
We also ordered Beef Chow Mein Wok Noodles ($19.95)
This was so good! The in-house made Lo Mein noodles were delicious and the beef so very tender. It was so good, I suggested to Dorene we order the
Chicken Chow Mein but we were just too full.
This was an excellent lunch. Service and food were fantastic, but served just a tad too fast between courses.
I would rate Beijing Noodle No.9 n the top three Asian restaurants in Las Vegas.
The restaurant is open 24/7 so there's no excuse not to go there.
They have a BREAKFAST PRIX FIXE MENU for $22.99 Per Person (Available Daily from 6am– 10am)
Includes a choice of beverage: Orange Juice, Premium Hot Tea (Floral Jasmine or Imperial Green Tea), Soy Milk, or Coffee (All includes refill EXCLUDING Soy milk)
Choice of (1) Item Per Category MAIN Asian Style Over Easy Eggs (2) with 4oz of Stir Fried Sliced Sirloin Beef OR Asian Style Over Easy Eggs (2) with Dim Sum Combination (3) SIDE Hot Bowl of Chicken Congee OR Stir Fried Vegetable Chow Mein
FRESH SEASONAL FRUIT CUP
LUNCH PRIX FIXE MENU $29.99 Per Person (Available Daily from 10am– 4pm)
Includes a choice of beverage: Iced Tea, Premium Hot Tea (Floral Jasmine or Imperial Green Tea) or Soda (Refills Included)
Choice of (1) Item Per Category:
SOUP Seafood Hot and Sour Soup OR Chicken and Corn Soup
APPETIZER Crispy Vegetable Spring Rolls (2) OR Pork and Cabbage Pot Stickers
ENTRÉE Stir Fried Beef with Asparagus in Black Pepper Sauce with Jasmine Rice OR Vegetable Fried Rice with Slices of Honey BBQ Pork OR General Tso's Chicken with Jasmine Rice OR Stir Fried Golden Chow Mein – Choice of Beef, Chicken, Pork, or Vegetable