Everything Las Vegas Issue # 902
Plaza Hotel & Casino to welcome summer with renovated rooftop pool suites, $25K in new pool deck resort style furnishings, and special events.
The fully renovated rooftop pool and recreation deck at the
Plaza Hotel & Casino
that opened July 4
th
weekend last year to rave reviews has even more to offer guests this summer with an additional $25,000 upgrade to its furnishings, a $300,000 renovation to five hotel suites with direct access to the pool deck, and various special events, including a Hawaiian Luau and the debut of Plaza Pool Nights.
Maintaining its retro Palm Springs-meets classic downtown Las Vegas inspired feel, the Pool at the Plaza upgraded its resort style furnishings for the 2017 pool season, including adding cocktail side tables beside its lounge chairs, new wet deck lounge chairs and more dining tables, chairs and umbrellas. All six day beds were re-upholstered with a vibrant green fabric.
The Plaza has five hotel suites that open directly onto the pool deck, offering guests an exclusive amenity during their stay. A complete renovation brings the pools vintage Palms Springs feel inside the suites with décor that mixes contemporary and mid-century furnishings. Taking inspiration from the pool and the outdoor spaces materials and color palette, the renovated suites incorporate warm wood tones and mixed metals with bold colors and graphics.
The suites also feature custom cabinetry, new floorings, custom lighting fixtures and casual, relaxing furnishings with luxurious touches throughout. Bathrooms are completely upgraded with custom vanities, quartz counters and a special blend of dimensional and glass mosaic tiles to give the bathroom the ultimate vacation feel. Beginning at the end of May and starting at $200 per night, the suites can be booked for summer stays online at
https://www.plazahotelcasino.com/reservations/
.
This summer, the Pool at the Plaza is home to various entertainment and special events. The schedule of events kicks off on Saturday, May 20 at 7 p.m. with a special luau beach party featuring live entertainment and authentic Hawaiian food and drinks. Tickets are $40 (including taxes and gratuity) and available online at
http://www.plazahotelcasino.com/ente...u-beach-party/
.
Every Saturday night this summer beginning May 6, the Plaza will host Plaza Pool Nights, a free night swim party with a DJ and drink and food specials from 8 p.m. to 1 a.m.
And to celebrate the Fourth of July holiday and one-year anniversary of the Pool at the Plaza, the property will again host a special rooftop party and live fireworks show. More details on events and amenities at the Pool at the Plaza this summer are available
online
.
GENERAL MANAGER OF THE PLAZA'S POOL KEEPS THINGS COOL BY KIKO MIYASATO
Born and raised it's not just a phrase. Justin Catanese is proud to say that he's a Las Vegas native. Even better? He works at one of the city's most historic downtown propertiesThe Plaza, where he.s the general manager at the newly renovated pool.
"For someone who grew up in Vegas, to work where Vegas started, to be a part of that, is really amazing," Catanese said.
What might be even more cool when it comes to his career is that Catanese has always worked around water in the middle of a desert. His first job was as a lifeguard at The Mirage; by the time he left the property he had moved all the way up to lead cabana host. He's also helped open new cabanas at The Venetian, The Palazzo and Vdara. And last year, he joined and helped launch The Pool at The Plaza.
The pool, which re-opened in July, is a merging of two worldsa Palm Springs relaxed vibe mixed with classic Vegas, Catanese said. As general manager, he contributes to everything from picking out the furniture to choosing the swimwear for the cocktail servers and uniforms for the pool staff. He also oversees the food truck and bar area, and had the idea to implement the daiquiri bar this season. This job can be equal parts stressful and equal parts awesome, Catanese said with a grin. But I've always loved the energy that goes with working at a pool. There's always a smile on everyone's face, you have to love that.
BE COOL AT MGM RESORTS INTERNATIONAL'S POOLS by Kiko Miyasota/Las Vegas magazine
Watery wonderlands in the desert might seem unbelievable, but they do exist, and many of them belong to the long list of MGM Resorts International's properties. While each offers a pool and accompanying amenities, some are over-the-top, indulgent escapes. We've rounded up some of the stellar options—all with their own unique offerings, but all offering the perfect day of fun and upscale relaxation.
More here:
https://lasvegasmagazine.com/enterta...-las-vegas/#/0
Crazy 4 Poker Makes Another Millionaire at Flamingo Las Vegas
What started out as a fun evening with friends at Flamingo Las Vegas, turned into an unforgettable night for San Diego resident Veera Devabhaktineni, who hit a $1 million diamond six-card Royal Flush jackpot at the Crazy 4 Poker table on Saturday, April 15.
This wasn't Devabhaktinenit's first time playing Crazy 4 Poker, but it was his first million, won after only an hour of play. When asked what advice he'd like to pass on to all other future winners, he replied with, Keep trying and all the best.
The last Las Vegas millionaire was made less than six months ago at O'Sheas Casino at The LINQ Hotel & Casino. 2016 was a lucky year, bringing eight new millionaires to the ever-growing list.
Caesars Entertainment has created
more than 775 millionaires
since 1987; with those player winnings fast approaching the
$2 billion
mark, the company has announced
Millionaire Maker powered by Total Rewards
, a celebration of these guests winnings and a promotion aimed at making even more millionaires.
There are a growing number of ways to become a millionaire, even a multi-millionaire, at Caesars Entertainment resorts nation-wide. Every year the best poker players in the world gather at
Rio All-Suite Hotel & Casino
for the
WSOP
®
where the winner has been known to take home more than $8 million. Popular
slot machines
like Wheel of Fortune
®
, Mega Bucks
®
and Wizard of Oz
®
routinely reach multi-million dollar jackpots. Players can win $1 Million in just one hand at table games playing
the 6 Card Bonus® wager on Three Card Poker, Let it Ride, Mississippi Stud Poker, Four Card Poker, Crazy 4 Poker, Ultimate Texas Hold'em or Texas Hold'em Bonus
. With special events and promotions in a number of key markets Caesars Entertainment is consistently pioneering games to offer players innovative and entertaining ways become the next instant millionaire.
Luxor transforming closed LAX nightclub into e-sports arena
The Las Vegas Strip is getting its first space dedicated to competitive gaming when the Luxor hotel-casino transforms its nightclub into a multilevel e-sports arena.
MGM Resorts International announced today plans for the arena that will feature a competition stage, LED video wall, daily gaming stations, food and drink and a streaming and television-quality production studio. Work on the venue will begin in early June with the goal of opening in early 2018.
More here:
https://lasvegassun.com/news/2017/ap...433.1491498158
Dome theater opens at Container Park in downtown Las Vegas By Wade Tyler Millward LVRJ
About 25 people reclined in their seats watched as a father and daughter gawked at animated dinosaurs from 65 million years ago.
In another video, helicopters flew over a desolated brick building while Pink Floyd's Another Brick in the Wall played all around the crowd.
Lastly, the crowd watched asteroids explode as presenter Mark Carlson pulled the trigger on a modified laser tag gun.
It's the first of its kind, said Carlson, operations vice president for theater operator Downtown Project.
The two movie scenes and game were part of a preview Thursday for the planetariumlike Dome theater inside Downtown Container Park on Fremont Street.
More from the LVRJ here:
https://www.reviewjournal.com/local/...own-las-vegas/
Magic Mike Live makes the male revue funny and sensitive by Mike Weatherford/LVRJ
Photo by Erik Kabik.
They may share the name Magic Mike, but only one of them watches the Oprah network.
The movie Mike, as played by Channing Tatum, backflips right off that stage, hoists a gal, chair and all, right off the floor, throws his new friend down on the stage, loses his shoes, then his trousers and … well, you get it, or you can get it on Netflix.
But when his namesake in the live show, a novice freshly promoted from the service industry gets commanded, Mikey, make her feel beautiful?
Magic Mike Live! turns out to be as agile as its dancers in having it both ways. It does a crafty job of arguing those other shows are cheesy and misogynistic. But this one? It really cares about you.
More from the LVRJ here:
https://www.reviewjournal.com/entert...and-sensitive/
Walking Dead zombie attraction heading to Fremont Street in July by Wade Tyler Millward LVRJ
A year-round Fremont Street attraction based on the Fear the Walking Dead TV show is expected to open in July.
Work on the attraction broke ground Monday and Fremont Street Experience has formed an agreement with the attraction maker, Fremont Street Experience CEO Patrick Hughes said.
It's a great addition to the area. Hughes said.
The attraction, based off a companion show to AMC Networks nearly 7-year-old The Walking Dead TV series, will be housed at 425 Fremont St. That building houses Hennessey's Tavern and Walgreens.
More from the LVRJ here:
https://www.reviewjournal.com/busine...treet-in-july/
It's a new schedule, venue name for Mat Franco Theater By John Katsilometes LVRJ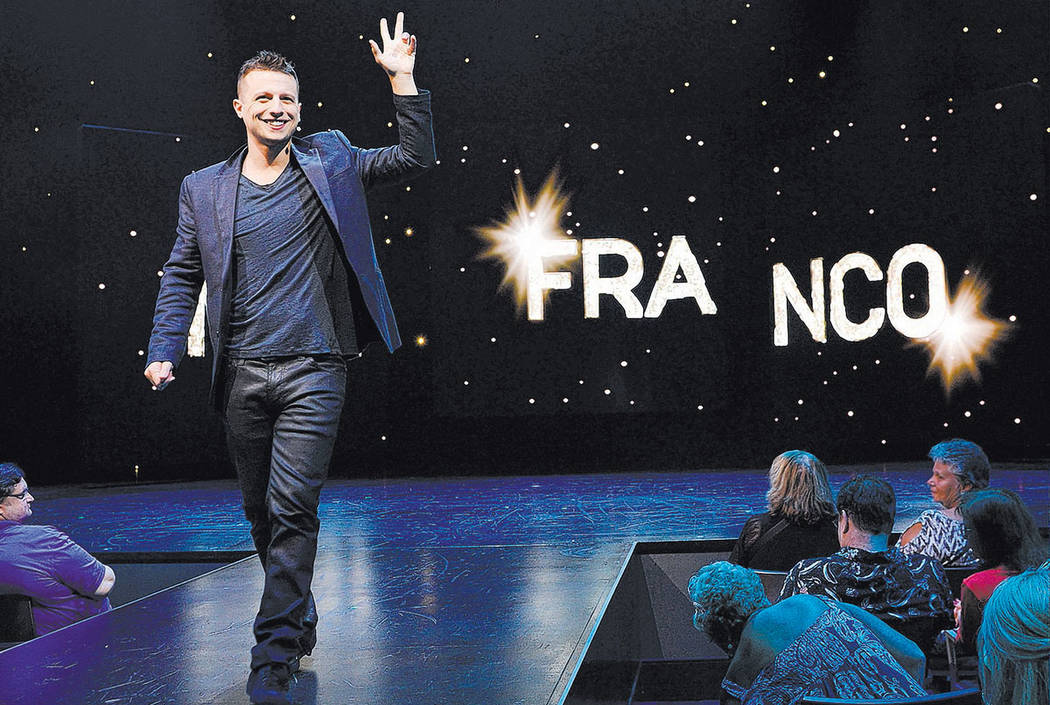 The champion of the ninth season of America's Got Talent is a winner on the Strip, too.
Magician
Mat Franco
is expanding his Magic Reinvented Nightly schedule in the venue soon to be renamed Mat Franco Theater at the Linq hotel-casino. The new theater name is to be announced Friday, with a formal unveiling set for July 10.
On that date, Franco boosts his schedule to 10 shows per week, twice daily at 7 p.m. and 9:30 p.m., dark Wednesdays and Thursdays. He's previously performed six shows per week, at 7 p.m. Sundays, Mondays, Tuesdays and Fridays and at 4 p.m. and 7 p.m. Saturdays.
More from the LVRJ here:
https://www.reviewjournal.com/entert...ranco-theater/
Confirmed! Kendra Wilkinson Baskett, Jai Rodriguez in Sex Tips by Robin Leach
Sexy Playboy cover girl and centerfold Kendra Wilkinson Baskett, who starred in the E! Entertainment reality-TV series The Girls Next Door shot at Hugh Hefner's Playboy Mansion near Los Angeles, confirmed today our previous
Wicked Whisper + Racy Rumor
that she's bringing a sexy show to the Strip.
The New York City production of Sex Tips for Straight Women From a Gay Man will premiere in Las Vegas on May 27 at
Paris Las Vegas
with stars Kendra (Kendra on Top) and Jai Rodriguez (Queer Eye for the Straight Guy). Based on the novel of the same name, the show has been acclaimed as hysterically titillating by Theater Mania and hailed by Broadway World as a night of laughter that makes you feel good in all the wrong places.
I saw the show in New York City and was excited to be asked to join the production and debut it in Las Vegas, Kendra, whose starring role will be prominently featured in her forthcoming season of Kendra on Top, said in a news release.
More from the LVRJ here:
http://robinleach.reviewjournal.com/...z-in-sex-tips/
Clint Holmes relaunches Vegas residency at Golden Nugget - By John Katsilometes/LVRJ
As of May 9, you'll find Holmes at the
Golden Nugget
Showroom, performing 8 p.m. Tuesdays and Wednesdays through August and possibly longer.
It's a perfect fit for the popular Vegas vocalist, who recently released the flourishing jazz album Rendezvous, and arrived at the Golden Nugget in 1999. He became known for a funny TV commercial and billboard campaign, showing him singing in the shower, with the message: If you wanted to see Holmes sing for real, hit the Golden Nugget.
I have come full circle, he said of his return. Even the date is significant, as May 9 happens to be Holmes 71st birthday. After leaving his initial Golden Nugget gig, Holmes had a six-year residency at Harrah's. He then played monthly Cabaret Jazz at the Smith Center before developing the stage show Between the Lines at
Palazzo
Theater last July. That show closed in December.
More from the LVRJ here:
https://www.reviewjournal.com/entert...golden-nugget/
World's Greatest Rock Show tunes up loudly at the Stratosphere - By John Katsilometes/LVRJ
Every day, the Apple Music app posts Playlists customized to your listening patterns. If you like, say, polka music, your Wednesday Playlists are likely to be full of
Brave Combo
,
Tom Brusky
,
Slavko Avsenik
and the like.
My Playlists are blasting out of a few Strip showrooms and rock clubs. Classic rock is the new thing, and Tuesday night at the Stratosphere I ducked into the last production in that genre, The World's Greatest Rock Show. Love that title, which the show's music director,
Lon Bronson
, says is the least-ambiguous name for a show he's seen in Las Vegas.
The opener was not much more than an extended dress rehearsal, but it still was a lively night of rock n roll. The show's concept is familiar, reflects the tribute samplings of Legends in Concert at Flamingo Las Vegas, and a show that was once presented at Stratosphere Showroom, American Superstars. Rock Show hustles out a rotation of classic rockers. Opening night it was
Bruce Springsteen and the E-Street Band
(fronted by Reckless in Vegas founder
Michael Shapiro
),
Van Halen
(with
Drew Hart
pefroming the
Diamond David Lee Roth
leaps and yelps),
Heart
(with
Anne Martinez
of Baz and
Cassie Stone,
late of Zarkana, swapping vocals), Journey (starring
Paul Johnson
of Rock of Ages as
Steve Perry
),
Meat Loaf
(with
Jared Dalley
, also from RoA), and a full treatment of
Kiss
to close the night.
More from the LVRJ here:
https://www.reviewjournal.com/entert...-stratosphere/
New room, new voices for Strip-bound Gordie Brown - By John Katsilometes/LVRJ
The long-running Vegas impressionist is back onstage, on the Strip, at The Cabaret at
Planet Hollywood.
Brown opens the show, simply titled, Gordie Brown Live, at 7 p.m. May 9.
Brown's latest production is scheduled at 7 p.m. nightly (dark Mondays and Fridays), with tickets set at $59.95, $69.95 and $79.95, not including fees. The Cabaret is on the second-floor, mezzanine level of the hotel, across from Planet Hollywood Showroom and adjacent to Crazy Girls Theater.
Brown's production is the most adventurous in the short history of The Cabaret, which is being expanded from 115 seats to 185. The venue opened at the start of 2016 and is currently home to the "Comedy & Dolls" comic-burlesque production at 9 p.m. That show will move to 10 p.m. if the club finishes off a deal bringing an 8:30 p.m. show to the room.
More from the LVRJ here:
https://www.reviewjournal.com/entert...-gordie-brown/
THINGS TO DO IN LAS VEGAS IN MAY
Looking for a party month in Vegas? Then May is the answer. With Cinco de Mayo celebrations at the start and Memorial Day weekend parties at the end, plus great weather, pool openings and big name shows in between, you'll find us partying all month long. It's time to give in to your desire for fun and plan a trip to Las Vegas. Where will you be partying with us this month?
Cinco de Mayo falls on a Friday (¡si, si, si!), the Kentucky Derby is the day after that, Mother's Day can be taken to the max and Memorial Day is most definitely stretched out over the entire extended weekend. That's not all May has to offer; there's famous comedians like Jim Gaffigan and Bob Saget to crack you up and delicious drink specials to make your happy hour even happier. Read on to discover the top things to do in Las Vegas this May
More here:
http://blog.caesars.com/las-vegas/th...las-vegas-may/
10 SECRETS OF CAESARS PALACE
Are you one of those people who can quote every line from The Hangover? Have you made it a point to try one of each of the 500 dishes at Bacchanal Buffet? Are you a card-carrying member of
Celine Dion's
fan club?
You might consider yourself an expert on the empire of
Caesars Palace,
but we bet we can still surprise you with a few secrets about the resort. Test your knowledge and check out these 10 tips, tricks and fun facts about Caesars Palace.
More here:
http://blog.caesars.com/las-vegas/la...aesars-palace/
YOUR VEGAS BUCKET LIST
Whether you're a Vegas newbie or an all-season veteran, we're sure there's still a boatload of activities you haven't experienced. That's where we come to the rescue. We've rounded up the most fun and zaniest things to do in Sin City.
Fasten your seat belts and get ready for your ultimate Vegas bucket list.
More here:
http://blog.caesars.com/las-vegas/th...​​
HUNGER PAINS:THE FOOD AND RESTAURANT SECTION
Robert Irvine's Public House to the Tropicana by Bradley Martin
Celebrity chef
Robert Irvine
has managed to keep details of his first Las Vegas restaurant under wraps for almost a year, but last night at the
Tropicana
he finally unveiled the name and the thinking behind the soon-to-arrive
Robert Irvine's Public House
.
While the public house angle will include a nod to his British roots and a pub-style atmosphere, the Food Network TV star explained that the name was chosen "not for the ale, but because I want to invite people to enjoy the entertainment, enjoy the food and it's about people."
Working for a July debut, Irvine announced the "eclectic menu comes from my travels around the world" and includes his personal spins on "comfort food."
Located on the northern side of casino floor, including part of the former sports book, last year, Irvine told
Eater Vegas
he intends to be be actively involved with the restaurant, and make frequent return visits. "The success of the restaurant depends on me being here."
Ellis Island Plans To Open The Front Yard by Susan Stappleton
Ellis Island
is expanding. The casino and brewery plans to open a new outdoor dining, drinking and entertainment venue dubbed The Front Yard. The two-story venue with space for 300 plans to span along Koval Avenue with a casual brewpub, bar games and activities, regular live entertainment and a view of the Las Vegas Strip.
Inside, guests will find wood fixtures, exposed steel and low lighting as well as interactive bar games such as cornhole, shuffleboard and beer pong. The second floor plans to feature an atrium view.
Ellis Island Brewery will be incorporated in the design of The Front Yard with a window so patrons can see the copper tanks and brewing process from inside. Guests will be able to taste some of the spirits Ellis Island plans to distill as well. A seasonally rotating stock of beers from the brewery as well as a full cocktail and wine menu will also be available at the bar.
The Front Yard plans to open this year.
http://vegas.eater.com/2017/4/7/1521...d-opening-2017
Cinco de Mayo in Las Vegas
Cinco de Mayo Gets Sexy at Tacos & Tequila!
One tequila, two tequila, three tequila floor!
Tacos & Tequila (T&T)
inside
Luxor Hotel and Casino
will host its Sexy de Mayo Quatro fiesta in honor of Cinco de Mayo from 6 to 9 p.m. on Friday, May5, complete with non-stop entertainment, dancing, mucho tequila and an appearance by model, social media star and lifestyle writer, Michele Maturo.
Known for its outlandish Cinco de Mayo festivities each year, T&T's fiesta will include sizzling performances by the stunning and sexy Las Coyota dancers, who will also lead attendees in a dance off. Cash prizes will be awarded to the best dancers of the night, including $1,000 for the winner and $500 for second place.
We are known around town for our outrageous antics during Cinco de Mayo, says T&T co-owner Michael Frey. Weve had everything from midget wrestling and human rooster fighting, to model Jessa Hinton handing out tequila shots to party goers, along with appearances by Erik Estrada, Jessica Burciaga, the Real Housewives and more. Every year, we try to out-do ourselves with crazy and fun activities, and this year will be no exception.
Live music by world renowned mariachi band, Mariachi Los Toros, will take place throughout the evening. The Galardo Award winning musical group is known for bringing down the house at the Hollywood Bowl, Dorothy Chandler Pavilion, Teatre Degollado and more. Guests can also expect a special appearance from former professional wrestler, Jimi el Jimadorand the Luchador.
Drink specials, featuring el Jimador tequila, include the Cinco-Rita, a tropical margarita made with el Jimador reposado, organic agave nectar, Grand Mariner, T&T house-made margarita mix and fresh limes, served on the rocks and priced at $9; the La Paloma, made with el Jimador reposado, fresh squeezed lime juice and Jarritos Toronja grapefruit Mexican soda, priced at $8; and a shot of el Jimador paired with a 12-ounce Dos Equis, for $7.
More information on T&T's Cinco de Mayo bash can be found at
tacosandtequilalv.com
or by calling 702-262-5225.
The LINQ Promenade Announces a Day of Celebration for Cinco De Mayo with Piñatas, Mariachi, Dancers
Celebrate Cinco de Mayo with music and dance at The LINQ Promenade. Party-goers will enjoy a live band covering popular songs with a Mariachi flair, accompanied by traditional Mariachi dancers and festive décor.
At The High Roller Observation Wheel, the popular Happy Half Hour will transform into a Tequila Takeover where Sauza Blue will host in-cabin demonstrations on how to make the perfect margarita. Happy Half Hour is one 30-minute rotation with an in-cabin open bar.
The Fountain Stage will serve as the heart of the party and feature live entertainment. Numerous food and beverage establishments will offer Cinco de Mayo specials, including:
ameriCAN Beer and Cocktails
On Friday, May 5 the Cinco de Mayo festivities carry on at The LINQ Promenade with Mexican canned beer specials throughout the day.
Chayo Mexican Kitchen + Tequila Bar
$20 "Breakfast and Buzz" featuring two Egg and Chorizo Tacos and 32-oz housemade Modelo micheladas served in a 32-ounce Chayo Pilsner souvenir cup that can be refilled for $10 with any draft beer
$5 16-oz. draft beers (Modelo, Negra Modelo, Corona Light and Pacifico).
$5 tall Corona Cans
$8 shot of Patron Silver
$16 32-oz mega-drafts of Modelo, Negra Modelo, Corona Light and Pacifico in a souvenir cup
$20 32-oz. frozen margaritas
Street tacos and Mexican street corn
Flour & Barley - Brick Oven Pizza
$19 Carne Asada Pie topped with ranchero salsa, carne asada, pico de gallo, queso fresco and fresh cilantro, topped with a creme drizzle. This special will run from through Monday, May 8.
Guy Fieri's Vegas Kitchen & Bar
$19.50 Guy's Loaded Carne Asada Fries
$10 Modelo draft and a shot of Patrón
Jaburritos
$5 sangria and Modelo all day for the holiday
Off the Strip
Inside
Soup of the Day - Pozole
$15 chicken rolled tacos (5 per order) with guacamole, sour cream, shredded lettuce, pico de gallo and cheese
$16 shrimp ceviche served with tri-color tortilla chips
$18 Chilaquiles Skillet (breakfast only) diced carne asada, queso fresco, shredded cheddar, pico de gallo, sliced avocado and two fried eggs
Outside
Chicken Rolled Tacos
Churros
All specials above will be available May 5 through May 7.
O'Sheas
$30 Corona 5-bottle bucket specials
$10 Sauza Margarita specials
Junior Mariachi Band
Promo models with a tequila ice luge
Sprinkles Cupcakes
Casamigos Margarita Cupcake, loaded with George Clooney and Rande Gerber's small-batch tequila, available May 1 through 31.
Virgil's
Pork and brisket street tacos
Virgil's Margarita
Corona, Corona Light and Modelo specials
WHEN:
Friday, May 5
6 p.m. to 10 p.m.
Fiesta Like There's no Mañana at Pancho's Cinco De Mayo Party in Downtown Summerlin
In honor of Cinco de Mayo, Pancho's Mexican Restaurant, located in Downtown Summerlin, will host an all-day fiesta featuring mariachis, traditional Mexican food and tequila shot specials on Friday, May 5.
A mariachi band will spice up the festivities with traditional Mexican music for revelers from noon to 5 p.m. both inside and outside the restaurant. Available throughout the restaurant, tequila specials will include shots of Hornitos silver and Hornitos Lime, Hornitos Black Barrel, and Hornitos Spiced Honey tequilas, priced at $5 and shots of Patrón silver, priced at $9. Handcrafted margaritas will also be available for purchase, including the Jalapeño Margarita, made with Zarco Silver tequila mixed with house-made margarita mix, triple sec, and topped with sliced jalapeño and a Tajín powder rim garnish, priced at $10.75. A patio party will keep the tequila flowing and the energy up with exclusive drink offers all night long.
Inside the restaurant, guests can enjoy Pancho's signature menu items including Camarones a la Diabla, made with sautéed shrimp, caramelized onions and roasted garlic simmered in a special Diabla sauce with roasted Gualjillo chiles, served with green rice and grilled julienned vegetables, priced at $19.95 for lunch and $25.95 for dinner; Pancho's Chimichanga Especial, a flour tortilla filled with chunks of seasoned pork, cheese and green chile verde sauce, deep friend and topped with sour cream and guacamole, served with Mexican-style rice and beans, priced at $15.95 for lunch and $18.95 for dinner; and Wahoo Fish Tacos, made with two flour tortillas filled with grilled Wahoo fish, shredded cabbage, pico de gallo and chipotle sour cream, served with Mexican-style rice and beans, sour cream and guacamole, priced at $16.95 for lunch and $18.95 for dinner
Country artist Siana King will round out the night with a live performance in the cantina from 8 p.m. to midnight.
CELEBRATE WITH NACHO DADDY AT THE ULTIMATE CINCO DE MAYO PARTY AND GIVE BACK TO THE COMMUNITY
Whether it's celebrating Cinco de Mayo or its ongoing commitment to the community, Nacho Daddy knows how to party! This Cinco de Mayo on Friday, May 5; Nacho Daddy on West Sahara enlists the community to celebrate the holiday while giving back. From 11 a.m. to 8 p.m.,
Nacho Daddy holds a spicy Cinco de Mayo party while encouraging donations to their charitable partner, Three Square.
During this event, guests can bring monetary donations or items from the non-profit's wish list while enjoying Nacho Daddy fare. Nacho Daddys outdoor party features $2 street tacos and Mexican street corn, $4 beer, $6 margaritas and, of course, plenty of their signature scorpion shots. Party-goers can also try their luck with a raffle for exclusive Nacho Daddy gear and other prizes; enjoy fun games like cornhole and extreme Jenga; see Nacho Daddy's celeb fans; and rock out to live music from 5 – 8 p.m.
As part of Nacho Daddy's commitment to the Las Vegas community, the group will also present a check at noon to local organization
,
Three Square, for another 140,000 meals to help Las Vegans who are food insecure, bringing the total to more than 250,000 meals donated in just over one year
. In 2016, Nacho Daddy started the Buy a Meal, Give a Meal program at all three restaurants, which provides assistance to those in need in Southern Nevada.
During the celebration, guests are encouraged to bring donations to Three Square. Every person donating will receive a free beer or margarita (one per customer).
In addition to monetary donations, Three Square is in need of a variety of items including meat/high protein – canned meats, fish, spam and stew, mac & cheese, soups, rice, beans; dairy – canned and powdered milk; breads/cereals – baking mixes, cereals, oatmeal, flour, sugar; and allergy friendly products – soy, almond and rice milk, gluten free boxed baking mixes, soups and pastas, alternative nut butters. A full list of acceptable donation items is available online at
www.threesquare.org
.
Nacho Daddy is Vegas Cinco de Mayo party headquarters with three locations including W. Sahara, The Strip and Downtown Las Vegas. The official Cinco de Mayo and Three Square celebration will be held at the W. Sahara location only.
Cinco de Mayo Gets A Dose of Therapy With Food And Drink Specials
Olé!
Therapy
restaurant,located in Downtown Las Vegas,will get into the Cinco de Mayo spirit with food and drink offerings from Friday, May 5 through Sunday, May 7.
Featured drinks will include the Cinco Celebration, a classic margarita made with Dos Armadillos tequila, triple sec and lime, poured over ice; and the Fiesta-rita, a frozen margarita made with Dos Armadillos tequila, triple sec and lime. Both cocktails will be priced at $10. The restaurant will also be pouring Dos Armadillos tequila shots, priced at $5.
Therapy will also serve Nachos Locos, blue corn tortilla chips topped with braised chicken thighs, tomatillo salsa, white cheddar cheese sauce, fresno chili peppers, avocado and house-made sour cream, priced at $13.95.
Beer Park at Paris Las Vegas To Throw Rooftop Party for Cinco de Mayo
BEER PARK
at
Paris Las Vegas
will celebrate Cinco de Mayo with a sizzling rooftop fiesta featuring live music, margaritas and more all day on Friday, May 5.
Guests can salud to Cinco with featured drinks by sponsor Hornitos, including the Grand Slam Peacharita, made with Sauza Hornitos blanco, peach nectar and citrus spritzer, priced at $11; margarita pitchers, priced at $44; and shots of Hornitos tequila, priced at $9. Exclusively for Cinco de Mayo, BEER PARK will offer street tacos from a roaming taco cart, priced at $3 each, and Mexican street corn smoked in BEER PARK's signature beechwood smoker, priced at $4. Hornitos models will also be on hand offering tequila samples from 7 to 10 p.m.
The festivities will continue with live music by a mariachi band at 5 p.m. and a DJ at 7 p.m., all set against a background of panoramic views of the Las Vegas Strip. Guests can keep the party going with a piñata and BEER PARK's oversized yard games, including giant Jenga, connect four, beer pong and pool.
Reservations are available by calling 702.444.4500 or by visiting
www.beerpark.com
.
Grimaldi¹s Pizzeria Debuts All-New Summertime Menu on 5/1
Known for its award-winning, coal-fired, brick oven pizza and calzones
Grimaldi's Pizzeria
announces its seasonal menu, Summer Selections, featuring fresh fares and classics with a twist. Set to debut Monday, May 1, the bold menu will be available until Monday, July 31 at locations nationwide.
Developed by Grimaldi's own Executive Chef, Cory Lattuca, the tempting menu includes a new
Strawberry Spinach Salad
complete with baby spinach, feta cheese, red onions, toasted almonds, and sliced strawberries all tossed in a strawberry vinaigrette;
Barbecue Chicken Pizza
, a spin on a classic with Sweet Baby Ray's Barbeque Sauce, tender chicken, smoky bacon, and red onion, garnished with fresh cilantro; a refreshing berry
Summertime Sangria;
as well as rich, seasonal Strawberry and Blueberry cheesecake offerings, both house-made with seasonal fresh berries.
The upscale eatery is also debuting
Frizzante Frescos,
refreshing non-alcoholic beverages on its drink menu. Guests can sip on
Italian Sodas
fused with Monin® blueberry or strawberry puree and garnished with fresh berries; or a
Berry Lemonade
complete withMonin® blueberry or strawberry puree, a splash of fresh lemon juice and garnished with fresh berries.
Grimaldi's
Stoking Social Hour
continues throughout each month held every weekday, Monday through Friday, from 3:30 p.m. to 6 p.m. (times may vary by location). Enjoy $2 off draft beers, $2 off glasses of wine (house wines excluded), and $2 off the Grimaldi's Bruschetta Trio and Antipasto Platters. For $30, the Stoking Social Hour menu features the popular
Coalition
pairing complete with choice of Bruschetta Trio or small Antipasto platter and a bottle of wine. Starting May 1, guests have a choice between two Coalition wines - Rocca Delle Macìe Moonlight, or Rocca Delle Macìe Rubizzo.
Additional fan favorites including Chef Selection pizzas, mouth-watering calzones, and a variety of fresh salads will be available throughout the duration of the Summer Selections menu promotion.
New Menus and Specials at Wolfgang Puck Las Vegas Restaurants This May
Lupo Looks to Italy's Tuscany Region for May's Friday Feast Menu
Executive Chef Michael Tiva will offer a specialty menu highlighting the flavors of Italy's
Tuscany
region. Each Friday throughout the month of May beginning
Friday, May 5
, the Friday Feast menu will present five dishes inspired by the authentic breads, rich meats and savory stews that this Central territory is known for. Highlights include
Cacciucco
, a traditional Tuscan seafood stew with roasted tomatoes and grilled ciabatta bread and
pici al ragu di cinghiale
, a wild boar ragu bianco with picia pasta and pecorino cheese. Plates start at $12.
Lupo by Wolfgang Puck
is located at Mandalay Bay Resort and Casino and is easily accessible via the hotel's west valet. Valet parking validation is available for local guests. To make a reservation, please call 702.740.5522.
Spago by Wolfgang Puck and Wolfgang Puck Bar & Grill at Downtown Summerlin Feature Mother's Day Brunch Sunday, May 14
With Mother's Day quickly approaching on
Sunday, May 14
, Spago by Wolfgang Puck and Wolfgang Puck Bar & Grill will feature special brunches sure to not only please Mom, but all brunch fanatics.
Spago at The Forum Shops at Caesars
plans to feature its Fresh Starts, Shareable Favorites, Raw Bar Seafood, Breakfast staples and Spago's signature Café menu hits. Standout dishes include
crab deviled eggs
with French radish and fines herbs in addition to the utterly indulgent
Croque Madame
with country ham, béchamel, gruyère all atop house made brioche
.
Be sure to secure your seat in the café area beginning at 11 a.m.to 2:30 p.m. by calling 702.369.6300.
Wolfgang Puck Bar & Grill at Downtown Summerlin
will open its doors at 10:30 a.m. to host their Mother's Day Sunday brunch. New to the menu is the
egg white frittata
with market vegetables and goat cheese, or partake in the flavorful
huevos rancheros
with black beans, ranchero salsa, cotija cheese all layered with corn tostadas. Plates begin at $9. To secure your seat, call the restaurant at 702.202.6300.
Cucina by Wolfgang Puck and Spago Las Vegas Introduce New Lunch Prix-Fixe Menus
Cucina by Wolfgang Puck at The Shops at Crystals
-
New to lunch is Cucina's 3 for $25 prix-fixe menu bringing together Italian antipasti, mains and dessert favorites for a deal that can't be beat! From 11:30 a.m. - 3 p.m., choose one appetizer such the
antipasti salad
, one main dish such as Cucina's signature
porchetta panini
and finish with a sweet fix like the
tiramisu
or two scoops of
seasonal sorbet
. To give it a try, make your reservation at 702.238.1000
Spago by Wolfgang Puck at The Forum Shops at Caesars
- Breakaway for lunch with the best midday fix new to The Forum Shops menu offerings. Open everyday for lunch between 11 - 3 p.m., Spago by Wolfgang Puck has introduced their 3 for $30 prix-fixe menu that brings the very best appetizer, entrée and dessert hits to your table. Choose between appetizer favorites such as
Spago's chopped salad
or the delectable
Maryland crab cakes
to start, move onto six different options for mains such as
striped bass
with sweet corn succotash or
flat-iron steak salad in a lemon vinaigrette
and finish with one of four dessert options like the
blackberry rhubarb crisp
or
salted caramel pudding
.
BBQ Cookout Comes to Wolfgang Puck Bar & Grill Every Saturday
With the warmer months upon us, Wolfgang Puck Bar & Grill at Downtown Summerlin presents its featured BBQ menu for $19 per person. Every Saturday beginning at 1 p.m., the embers on the outdoor grill will bring the heat and intoxicating BBQ aromas to Downtown Summerlin. Feast your eyes on ¼ rack of baby back ribs, ¼ chicken (legs and thighs), pulled pork, cornbread and guests choosing of five different sides. Carry-out options are also available. To learn more, call the restaurant at 702.202.6300.
B and B Hospitality Group Las Vegas Announces May Highlights
Plan the next group outing or special event at one of B&B Hospitality Group's Las Vegas restaurants: Carnevino Italian Steakhouse, OTTO Enoteca e Pizzeria, B&B Burger & Beer and B&B Ristorante. The four restaurants in The Venetian and Palazzo Las Vegas present event planners a wide range of styles, experiences and private dining rooms.
B&B BURGER & BEER AT THE VENETIAN
With a prime Las Vegas Strip location,
B&B Burger & Beer
's patio overlooks the outdoor Venetian gondolas. The restaurant offers a casual, laid-back environment with a recently updated menu that includes a whole belly clam roll ($16), the bison caprese burger ($19) and crispy fried mushrooms ($12).
CARNEVINO ITALIAN STEAKHOUSE AT PALAZZO LAS VEGAS
Everything about the 12,000-square-foot Carnevino Italian Steakhouse in Palazzo Las Vegas is on a grand scale. From the rich Italian marble and soaring 40-foot ceilings to the popular all-beef tasting menu ($150), Carnevino's footprint is truly larger-than-life. In addition to the restaurant's main dining room, Carnevino also boasts three private dining rooms.
B&B RISTORANTE AT THE VENETIAN
At
B&B Ristorante
, the delicate cuisine and intimate dining room is a nod to classic old-world charm. For smaller parties, the private wine grotto seats up to 10 guests and houses hundreds of bottles of wine from floor-to-ceiling. For private events.
OTTO ENOTECA E PIZZERIA AT THE GRAND CANAL SHOPPES AT THE VENETIAN
OTTO Enoteca e Pizzeria
is a lively, festive restaurant in The Venetian's St. Mark's Square at The Grand Canal Shoppes. While some guests may prefer the large piazza, which opens onto the square, the restaurant also features two wine libraries.
Celebrate Mother's Day In Las Vegas

Cleo at SLS Las Vegas to Host Mother's Day Jazz and Champagne Brunch
Cleo
at
SLS Las Vegas
will celebrate moms with an indulgent Mother's Day jazz and champagne brunch, featuring a decadent spread of traditional American and Mediterranean fare and bottomless cocktails, all set to live entertainment by the Jozef Bobula Trio, from 10 a.m. to 4 p.m. on Sunday, May 14.
The all-inclusive brunch will include fresh fruit; salads; soups; Cleo's signature dips, including hummus with tahini and laffa bread; freshly baked pastries; and Cleo's mushroom and Roman flatbreads. A carving station will serve herb-crusted prime rib, lamb shawarma, longanisa sausage and cedar plank salmon. Additional offerings include an omelet and crepe station complemented by traditional dishes spanning eggs Benedict; French toast; applewood smoked bacon; turkey sausage; and chilled shellfish and seafood.
Desserts will include a whimsical candy station and sweet little selections, ranging from chocolate mousse to baklava. An array of bottomless cocktails includes champagne; orange, passion fruit or guava juice mimosas; and a build-your-own Bloody Mary bar.
The Mother's Day jazz and champagne brunch is priced at $45 per adult and $15 per child from 3 to 10 years old. Reservations may be made on
slslasvegas.com
or 702-761-7612.
SLS Las Vegas visitors will receive free covered parking and valet services. More information is available at
www.slslasvegas.com
.
Celebrate Mother's Day with Featured Dishes and Chocolate Tastings at HEXX Kitchen +Bar in Las Vegas
Show mom some love on mother's day with lunch or dinner from
HEXX Kitchen +Bar
and complimentary chocolate tasting at
HEXX Chocolate + Confexxions.
Featured Mother's Day selections include prawn ceviche, topped with coconut foam, pickled Fresno peppers, mandarin oranges and crispy plantains, priced at $15.95; olive oil poached halibut served with English pea mash, wild mushrooms and watermelon radish, priced at $33.95; and flourless chocolate cake for dessert, topped with strawberry meringue, candied rose petals and served with vanilla cream, priced at $8.95.
Don't forget to save room for dessert,
HEXX Chocolate + Confexxions
will serve a Be Sweet to Mom complimentary tasting at the chocolate counter, providing a view to observe the chocolate-making process.
Treat Mom to a Meal to Remember at Boyd Gaming Restaurants
Boyd Gaming restaurants around the Las Vegas Valley are serving special menus and more for Mother's Day on Sunday, May 14.
Aliante Casino + Hotel + Spa
/ 702-692-7777 / www.aliantegaming.com
7300 North Aliante Parkway, North Las Vegas, NV 89084
** Please note that Aliante Casino + Hotel + Spa gaming and dining promotions are only valid with an Aliante Players Club card. **
MRKT
will serve a Mother's Day Brunch from 10 a.m. - 2 p.m. for $55 per person. Brunch includes a Bloody Mary and mimosa station, a wide assortment of seafood, made-to-order omelets, tenderloin and much more.
Medley Buffet
will serve a Prime Rib & Seafood brunch and dinner for $19.99 with an Aliante Players Club card.
FARM
will serve a special dish for Mother's Day. Enjoy salmon wellington accompanied by wild rice and asparagus for just $15.99.
Cannery Casino Hotel
/
702-507-5700 / www.cannerycasino.com
2121 East Craig Road, North Las Vegas, NV 89030
** Please note that gaming and dining promotions are only valid with a C.A.N. Club Card.**
Waverly's
Steakhouse will serve a three-course Mother's Day special for $36.99. Start with a white asparagus soup for the first course, then enjoy stuffed flounder with salmon and crab. Finish the meal with Waverly's signature house-made crème brule.
Eastside Cannery Casino and Hotel
/
702-507-5700 / www.eastsidecannery.com
5255 Boulder Highway, Las Vegas, NV 89122
** Please note that gaming and dining promotions are only valid with a C.A.N. Club Card.**
Carve
will serve a four-course meal starting at $49 for Mother's Day. Start with a hearts of palm salad or lobster bisque soup, then enjoy an intermezzo of fruit sorbet with a champagne splash. Entrée selections include prime rib for $49; seafood duet for $49; beef wellington for $59; and filet and lobster for $69. End the meal with a trio dessert sampler.
Snaps
will serve a three-course meal for $15.99 on Mother's Day. Start with a choice of soup or salad, then enjoy seared salmon and fried shrimp, with white chocolate cheesecake for dessert.
Eldorado Casino
/ 702.564.1811 / www.eldoradocasino.com
140 Water Street, Henderson, NV 89015
Mary's Diner
will serve a Mother's Day special for $18.99, featuring salmon and a petite filet. The meal is served with red potatoes and green beans, and is served with a choice of soup or salad.
Gold Coast Hotel and Casino
/ 702-367-7111 / www.goldcoastcasino.com
4000 West Flamingo Road, Las Vegas, NV 8910
Ports O Call Buffet
will serve specials for Mother's Day all day long from 8 a.m. - 9 p.m. for $15.99. Plus, save up to $7 when you show your B Connected card! Special selections include crab-stuffed salmon, peel and eat shrimp, braised oxtail stew, made-to-order omelets, a chocolate fondue station and even more. The meal includes free Bellinis and mimosas for guests age 21 and older with a valid ID.
Cornerstone
will serve a three-course Mother's Day special for $35. The meal begins with a Very Berry salad or a cream of mushroom soup, with a main course of Macadamia nut-crusted halibut. For dessert, enjoy a double chocolate ganache cake.
Jokers Wild Casino
/ 702.564.8100 / www.jokerswildcasino.com
920 North Boulder Highway, Henderson, NV 89011
The Court Café
will serve a Mother's Day special for $18.99 featuring a petit filet with salmon, accompanied by red potatoes and green beans. The meal also comes with a choice of soup or salad.
Sam's Town Hotel and Gambling Hall
/ 702-456-7777 / www.samstownlv.com
5111 Boulder Highway, Las Vegas, NV 89122
The Angry Butcher
will serve a special Mother's Day brunch menu from 10 a.m. - 3 p.m. with live music by Calvin Brooks. The menu includes a wide variety of brunch choices and is a special edition of the Angry Butcher's signature Third Sunday Brunch.
Suncoast Hotel and Casino
/ 702-636-7111 / www.suncoastcasino.com
9090 Alta Drive, Las Vegas, NV 89145
Salvatore's
will serve several special selections for Mother's Day, including a New York sirloin with spicy shrimp for $35.95; stuffed fillet of soul for $27.95; braised beef short ribs for $28.95; and chicken primavera for $29.95.
SC Prime
will offer several three-course specials on Mother's Day. Start the meal with choice of either trumpet mushroom soup or Sonoma field greens salad; then select grilled filet mignon and creamy pesto shrimp for $58; blackened Alaskan halibut for $52; or a grilled veal chop for $56. Finish the meal with a triple-chocolate cheesecake.
Raise a Toast to Mom with Champagne Brunch at The Buffet at TI​​​​​​​
WHAT:
In addition to regular menu items, The Buffet at TI will celebrate Mothers Day with a selection of mom's favorites:
Herb Rubbed Leg of Lamb
Smoked Sliced Ham
Maple Smoked Salmon
Roasted Pork Belly Porchetta
Orzo and Spring Vegetable Medley
Lobster Ravioli
Baked Scallops St. Jacques
Brioche with Gruyere, Panchetta and Poached Egg
Warm Fruit Crepes
Wild Berry Egg Tarts
Peel and Eat Shrimp
Seasonal Fruits and Cheeses
Vanilla Berry Parfaits
Baby Frisee Salad with Candied Walnuts, Smoked Apple and Sherry Shallot Dressing
Spring Confetti Cake with Raspberry Butter Cream Filling
Bread Pudding
Mother's Day champagne brunch will be available for $27.95 per person.
WHEN:
Sunday, May 14 from 7 a.m. to 4 p.m.
WHERE:
The Buffet at TI
Treasure Island Hotel & Casino
3300 S. Las Vegas Blvd.
Las Vegas, NV 89109
HEXX Kitchen + Bar to Offer Featured Dishes, Chocolate Tastings for Mother's Day​​​​​​​
HEXX Kitchen + Bar
at
Paris Las Vegas
will honor moms this Mother's Day with featured dishes by the restaurants new executive chef, Carlos Buscaglia, and complimentary chocolate tastings, on Sunday, May 14.
Featured Mother's Day selections include prawn ceviche, topped with coconut foam, pickled Fresno peppers, mandarin oranges and crispy plantains, priced at $15.95; olive oil poached halibut served with English pea mash, wild mushrooms and watermelon radish, priced at $33.95; and flourless chocolate cake for dessert, topped with strawberry meringue, candied rose petals and served with vanilla cream, priced at $8.95.
Next door, HEXX Chocolate + Confexxions will serve a Be Sweet to Mom complimentary tasting at the chocolate counter, providing a view to observe the chocolate-making process. Tasting selections include an assortment of petit fours, made with HEXX's signature bean-to-bar milk and dark chocolates. Each of HEXX's chocolates showcase the distinctive flavor profiles of cacao beans sourced from Madagascar, Tanzania, Peru, Ecuador, Venezuela and the Dominican Republic.
Reservations may be made by calling 702.331.5551.
Bottiglia-Hearthstone and Salute offer great Mothers Day Options
TREVI Italian Restaurant to Celebrate Festa Della Mamma​​​​​​​
TREVI Italian Restaurant
, located inside The Forum Shops inside Caesars Palace, will feature chicken Marsala on Mother's Day, Sunday, May 14, as well as present moms with a complimentary Bellini.
Executive Chef Jose Navarro's chicken Marsala is made with sautéed medallions, Marsala wine and mushroom sauce; green beans, pappardelle and Cacio e Pepe, priced at $27.
Dessert recommendations for mothers include tiramisu, made with espresso soaked ladyfingers layered with a sweet mascarpone mousse, priced at $10; and chocolate gooey cake, loaded with a hot fudge center and accompanied by a scoop of vanilla gelato and fresh raspberries, priced at $10.
The full menu and more information are available at
www.trevi-italian.com
. For reservations, please call 702.735.4663.
New York Deli Night Brings East Coast Flavor, and Mother's Day Spa and Dining Specials Shine This May at JW Marriott ​​​​​​​
JW Marriott Las Vegas Resort & Spa and Rampart Casino sits upon a 50-acre property that includes two towers, a 50,000 square foot casino, a luxurious spa, and many amazing dining destinations. Located on the Westside of Las Vegas in Summerlin, the property proudly announces food and beverage specials from their many restaurants as well as spa specials and live entertainment for the month of May 2017.

SPA AQUAE

Mother Glows Best Body Treatment
The Mother's Day treatment begins with a sweet cream salt scrub and ends with delicious honeysuckle custard massage.
The 80-minute treatment is $165 and available through May 31

Bahama Mama Pedicure
Be swept off your feet with a pineapple coconut shea butter scrub revealing glowing skin followed by a mango-melon shea butter massage.
The 50-minute treatment is $59 and available through May 31

Lemon Velveteen Whipped Mousse Body Treatment
Your skin is smoothed to perfection with a natural citrus grass salt scrub exfoliation. A rich massage with lemon and tangerine infused shea butter completes this dreamy treatment.
The 80-minute treatment is $139 and available through June 30

Citrus C Facial

Skin is brightened, tightened and toned with powerful Vitamin C enzymes. Pure Vitamin C is delivered directly to the skin to lighten skin discoloration while maximizing wrinkle fighting properties and boosting collagen production.

The 50-minute treatment is $105 and available through June 30

Orchard Custard Garden Fresh Pedicure

Feet are enveloped in a warm, buttery Nectar Milk soak before being buffed and polished with a citrus grass salt scrub. Lastly, enjoy a silky massage with a floral custard infusion containing blood orange oil and whipped shea butter.

The 50-minute treatment is $54 and available through June 30

FOOD & BEVERAGE

Rampart Buffet

Mother's Day All Day Brunch $19.99 with Rampart Rewards, $21.99 without card. Children between the ages of four to seven are half price and children under three are free. All day brunch is served from 9 a.m 9 p.m. with breakfast items served until 3 p.m.

Buffet Prices: Lunch $5 on Tuesdays (50+) with Rampart Rewards, $7.99 daily with Rampart Rewards, $11.99 without card, $6.99 Senior (50+) with Rampart Rewards

Prime Rib & Shrimp Dinner (Sunday- Tuesday) $13.99 with Rampart Rewards, $15.99 without card, $12.99 Senior (50+ with card)
Weekend Brunch $12.99 with Rampart Rewards, $16.99 without card, $11.99 Senior (50+ with card)
Wednesday Southwest Fiesta Night $13.99 with Rampart Rewards, $15.99 without card, $12.99 Senior (50+ with card)
Friday Seafood & Crab Legs featuring Prime Rib $22.99 with Rampart Rewards, $26.99 without card, $21.99 Senior (50+ with card)
Saturday Steak & Seafood $18.99 with Rampart Rewards, $22.99 without card, $17.99 Senior (50+ with card)

Hawthorn Grill

Mother's Day Brunch - 9 a.m.- C 2:30 p.m. $62 for adults and $28 for children between the ages of five to 12.
Mother's Day Dinner - Three-course pre-fixe menu served 5- 10 p.m. $59 per person.
Sunday Prime Rib Dinner -18oz Prime Rib served with mashed potatoes, creamy horseradish and au jus. Offered every Sunday from 5 -10 p.m. $52 per person plus tax.
Breakfast (a la carte menu) 6- 11 a.m. Breakfast Buffet Monday -NFriday 7 -11 a.m. and Saturday 7 a.m. noon and Sunday 7 a.m.-1 p.m. Offering egg and omelet orders from your table.
Sunday Brunch Every Sunday, featuring live entertainment. Seating from 9 a.m -1 p.m. $29.99 plus tax. $18 Bottomless Bloody Mary or Mimosa.
Lunch 11 a.m. -2 p.m. Monday - Saturday
Dinner 5 - 10 p.m. Sunday-Thursday and 5 -11 p.m. Friday-Saturday.
Bar opens daily at 4 p.m.


Promenade Café Specials

Mother's Day Dinner - Three course menu for $19.99 per person. Offered 11 a.m.- C 9 p.m.
$7.99 Steak and Shrimp Dinner Special. 8oz Strip steak served with three jumbo shrimp, mashed potatoes and seasonal vegetables. Add soup or salad for $1.99 more. Served daily from 11 a.m.- 9 p.m.
$2.99 Graveyard Specials. Served midnight -6 a.m. Seven specials to choose from, including shrimp cocktail, wings, pancakes and more.
$4.49 Early Riser Special (with Rampart Rewards). Served seven days a week from 6 - 9 a.m. with three Breakfast Specials available.
$9.99 Three-Course Special. Served seven days a week from 11 a.m. - 11 p.m. Appetizer, Entrée and Dessert. Three entrée choices available.

Shizen
All-You-Can-Eat Sushi Sundays & Mondays for $29 per person. Offered 5 - 10 p.
Red Square Restaurant & Vodka Lounge Introduces New Menu Items​​​​​​​
RE
d Square Restaurant and Vodka Lounge
at
Mandalay Bay Resort & Casino
announced today the launch of an updated menu with debut items inclduing new varieties of fresh seafood, artisan meats and cheeses, and distinctive entrees. All dishes are now available.
Inspired by worldly culinary influences, Red Square has introduced a variety of delectable items, which perfectly complement the restaurants sleek and timeless ambiance. Red Square sourced the freshest ingredients to create a comprehensive menu ideal for coupling with its impressive vodka selection. With romantic lighting, exquisite cuisine, and lively music, Red Square offers guests a refined and serene dining experience.
Red Square Restaurant & Vodka Lounge New Menu Items include:
Starters
Artisan Meats & Cheeses
Served with seasonal jam, honey comb, olives, grilled bread

Kobe Beef Sliders
Balsamic onions, white cheddar, Louis sauce

Mussels & Clams
Lemon, white wine, garlic, parsley, grilled bread

Meatballs
Roasted tomato, onion, garlic, pepperoncini,
Grill
16 oz. New York Strip

10 oz. Flat Iron

Catch of the day

White Seabass

Branzino

Entrées
Scallops
Wild mushroom risotto, aged balsamic

Seafood Linguine
Mussels, clams, shrimp, scallops, lemon butter

Colorado Lamb Chop
Rosemary, potato confits, mushroom Ragoút

Truffle Penne Pasta
Wild mushrooms, English peas, parmesan, truffle cream

Sides
Grilled Asparagus
Lemon, olive oil

Mushroom Risotto
Wild mushrooms, shallots, parmesan, aged balsamic

Loaded Mac & Cheese
Ham, peas, four cheese

Dessert
Chocolate and Vanilla Cake Pops
Caramel sauce, vanilla ice cream

Carrot Cake
Coconut gelato, candied pecans

Reservations can be made by visiting http://redsquarelasvegas.com/
ABOUT RED SQUARE
Red Square offers an exquisite menu that takes contemporary American favorites and infuses them with exciting global influences. Along with its iconic Frozen Ice Bar and Vodka Vault, Red Square offers an incomparable vodka selection as well as unique and delicious signature cocktails, martinis and vodka infusions, creating the perfect nighttime destination. The romantic and mysterious atmosphere is complemented by antique mirrors and dining booths along the walls, while a three-tiered chandelier and red drapes hang in the dining room. For more information, visit
www.redsquarelasvegas.com
or call 702-632-7407.
Elixir Debuts New Additions to the Menu Just in Time for Spring
To satisfy the culinary cravings of any guest,
Elixir
, Green Valley's favorite place to Relax, Dine and Play, adds new items to their already delicious menu just in time for the spring season. With handcrafted food and cocktails, friendly staff and a variety of entertainment,
Elixir
is the perfect spot whether its for lunch, Happy Hour or late night. Featuring an old-Vegas vibe with a modern twist,
Elixir
is located at 2920 N. Green Valley Parkway just north of Sunset Road truly making it Green Valley's hidden gem.
New spring menu items for spring 2017 include:
Happy Hour
Mini Meatballs
- Mini meatballs in teriyaki sauce with sesame curry rice noodles
Mini Crab Cakes -
Mini crab cakes with spicy remoulade
Corndogs
– Battered hot dogs with grainy mustard dipping sauce
Appetizers
Thai Chicken Lettuce Wraps
- Green leaf lettuce with grilled peanut chicken, fresh carrots, asparagus, cucumber salad and curry noddle with peanut, tamarind and sweet red chili sauces
Sloppy Joe Dip
- Spicy sloppy Joe sauce with ground beef and melted cheese topped with sour cream and served with tortilla strips
Mozzarella Cheese Bites
- Crispy fried mozzarella with marinara and ranch
Salads
Steak Salad
- Spring mix topped with blackened flat iron steak, tomato, red onion and cheddar and comes with jalapeno ranch
Shrimp Couscous Salad
- Arugula and mint with couscous, tomato, cucumber, red onion, raisin, chick peas and feta tossed in creamy lemon herb dressing with spicy shrimp
Sandwiches
Ham and Swiss Melt
- Grilled focaccia, ham, tomato and melted Swiss with grainy mustard
Crab Cake Sandwich
- Jumbo crab cake on garlic focaccia with coleslaw and spicy remoulade
Entrees
Mediterranean Chicken Skewers
- Garlic marinated chicken skewers over couscous with green olives, sundried tomato, chick peas, peppers, zucchini and red onion with tzatziki sauce
Steak Frites
- Flat iron strip steak with housemade steak sauce, garlic parmesan French fries and whole grain mustard sauce
Enjoy New Spring Inspired Menu Items at Local Hangouts Distill and Remedy's​​​​​​​
Whether in Henderson, Southern Highlands, Summerlin or Centennial Hills, guests at Remedy's or Distill can satisfy their culinary cravings with an impressive list of new spring menu items including appetizers, sandwiches, burgers, salads and entrées. New spring menu items are available now at Distill Summerlin (10820 W. Charleston Blvd.), Distill Southern Highlands (4830 W. Pyle Ave.), Distill Centennial Hills (6430 N. Durango Dr.), Remedy's St. Rose (3265 St. Rose Pkwy.) and Remedy's Conestoga (530 Conestoga Way). All guests can enjoy the friendly service 24 hours a day, handcrafted food, delicious cocktails, impressive beer selection and twice-daily Happy Hours at all Distill and Remedy's locations.
New spring menu items for 2017 include:
Appetizers
Shrooms
- Panko-crusted stuffed with cream cheese, sundried tomatoes, red onion, cilantro and sriracha and is served with creamy horseradish sauce
Crispy Beef Skewers
- Tender strips of beef tossed in General Tso sauce, topped with sriracha and sesame seeds
IPA Shrimp -
Australian red shrimp baked in IPA beer Cajun butter and is served on toasted French bread
P&C Nuggets -
Housemade chicken nuggets coated in house potato chips and fried crunchy, served with honey mustard and ranch dressing
Sandwiches, Sliders and Tacos
Hot Italian Sub
- Grilled ham, capicola and salami topped with lettuce, tomato, onion, and house hot giardiniera
The Stack
- Ham, turkey, Swiss, cheddar and coleslaw stacked high on sourdough bread
Shrimp Tacos -
Grilled or fried shrimp served with jalapeno ranch slaw, pico de gallo and chipotle sour cream
Burgers
Veggie or Turkey Burger -
Grilled patty, lettuce, tomato and avocado with roasted red pepper aioli on a fresh toasted bun
Salads
Chicken Salad -
Grilled chicken breast in a fresh tossed salad of romaine, spring mix, roasted red peppers, artichokes, cucumbers, house croutons, bleu cheese crumbles and balsamic vinaigrette
Watermelon Feta Salad-
Fresh watermelon, spring mix, romaine, candied pecans, feta cheese and tossed in a housemade watermelon line vinaigrette
Entrées
Cajun Flat Iron -
Cajun rubbed flat iron steak served with creamy mashed potatoes and seasonal vegetables, topped with spicy Cajun brown gravy and garnished with green onions
Grilled Chicken -
Grilled chicken topped with spinach and feta cheese, served with rice pilaf and seasonal vegetables
Lemon Chicken Pesto Pasta -
Grilled chicken breast served with lemon pesto pasta with grilled asparagus and shredded parmesan cheese
Self-Serve Microbrew Kiosk to Rival Robot Bar by Bradley Martin
A
robot bar is headed to the Strips
Miracle Mile Shops
this summer and right next door at Harmon Corner, a new microbrew concept will also eliminate any interaction with a human bartender.
Planned for the retail hubs bridge level, the corner's owners hope to install a 12-foot in diameter kiosk that will let pedestrians walk up, scan their ID, pass a facial recognition test and then fill a 16-ounce cup from one of 26 kegs of microbrews and more familiar commercial brands.
The ID check can also automatically prevent customers from breaking Nevada state law and block them from pouring more than 48 ounces for themselves within a 15-minute time span. The machines take 20 to 50 seconds per pour.
Overseen by up to five human helpers, the Strip is no stranger to pour-your-own gimmicks, including TAG Sports Bar at The Linq, but this appears to be the first "grab and go" concept not aligned with a tavern or restaurant. One floor below the kiosk, Harmon Corner already hosts local microbrewers Sin City Brewing as a ground floor tenant.
No timetable for an arrival has been announced and the project will need Clark County approval.
http://vegas.eater.com/2017/4/11/152...ival-robot-bar
The Kitchen at Atomic Brings Fine Dining and Bar Food to Fremont East by Susan Stappleton
The dining footprint of Fremont East expanded further east when
The Kitchen at Atomic
finally made its debut. Chef Josh Horton, previously at Cili Bali Hai Golf Course just south of the Strip, brings a dinner menu of what he calls fine dining meets fun bar food with a twist next door to Atomic Liquors on Fremont Street.
Dishes served by night include social bites including mac bites with poached lobster, Gruyere bechamel sauce and roasted peppers; soft pretzels with spicy beer mustard and a smoked beer cheese; and chicken wings with a pepperoni pizza waffle.
Main entrees include a ribeye crown with a pink peppercorn-shallot relish, sea scallops with Thai eggplant and chicken thighs with chicken fried hen of the wood mushroom. Of course, Horton notes, the menu may change seasonally (or when the mood strikes us).
more from
www.vegas.eater.com
here:
http://vegas.eater.com/2017/4/11/152...n-fremont-east
Update: Beer Garden OUT, Go-Carts IN at the Plaza?​​​​​​​ BY: Bradley Martin

Still looking to forge a standout, independent identity, downtown's Plaza Hotel & Casino has a new attraction on the way, while it continues erasing the memory of an earlier experiment.

Facing Fremont Street, The Beer Garden has never formally been announced as closed, but demolition work has begun on the shuttered space, including removing all traces of its "living wall," a "vertical garden" that looked that on the "real grass" and 3,000-square-foot indoor and outdoor European-inspired venture.

Originally overseen by by Michael Vakneen, creator of Pop Up Pizza inside the resort, the once-named Bier Garten debuted in early 2014. A replacement has yet to be announced.

Last month the Plaza debuted its latest addition, Brightside Breakfast & Burgers, an "authentic New York style deli" on the casino floor and in the latest move to attract new locals and tourists, a go-cart track facility is proposed for a southern section of the outdoor car park.

With a maximum speed of 30 mph, the vehicles created by Bowman Karts can also be remotely controlled by track supervisors if customers become too zippy on the snaking 800-foot track. Seeking city approval, an estimated arrival date has not been revealed.

UPDATE: Word from a spokesperson for the Plaza Hotel & Casino updates the Beer Garden "is closed for renovations, and the property will announce the future plans for the space at a later date." Meanwhile, the boozy venture has chosen to abandon and not renew its dedicated web domain "biergartenlv.com," now operated by an unrelated blog.

The resort also advises the go-cart track "has not been confirmed to move forward at this time." That could change in front of the Las Vegas City Council on April 19. Gene Woods Racing Experience will present their case for the downtown expansion of their permanent facility on Sunset Road. In the southeast, the Experience's half-mile track lets brave souls race through "15 to 18 heart pounding laps...just inches off the ground."
Your Mammoth Guide to Happy Hours in Las Vegas by Susan Stappleton and Agnes Poliquin
One of your best bets in Vegas is happy hour, that time of day when restaurants and bars offer up discounted food and drink specials. Find these deals all up and down the Strip, in Summerlin, Henderson and at points in between. Get deals early in the day, late at night, on certain days or even seven days a week. Then prepare to eat and drink your way through an afternoon or night with deals that are too good to pass up.
More from
www.vegas.eater.com
here:
http://vegas.eater.com/maps/best-hap...staurants-bars
The Essential Patios of Las Vegas by Agnes Poliquin
Las Vegas seems to have two rare times during the year where the weather is just perfect, not too hot and not too cold. While these times are not officially recognized, locals know the time of year all too well. Luckily, we are still in that perfect spring time weather of 80 degrees and what better way to appreciate it than to dine outside? If you are lucky enough, you will find one of the restaurants who offer delicious food, a relaxing atmosphere, and a nice patio space. Patio dining is also popular for those who may not want to only sit and enjoy the weather, but rather, sit and enjoy people watching. Our list of eight essential spots for outdoor dining includes patios with prime spaces for not just people watching, but also spectacular views, a secret garden and even a water show. Each of these eight spots also provides tasty food and libations as well.
More from
www.vegas.eater.com
here:
http://vegas.eater.com/maps/essential-patios-las-vegas
QUICK BITES
Shake Shack
is now serving a trimmed down version of its famed fast casual menu inside the Strip's T-Mobile Arena, but guests should note that indulging in a "Shack Stack" while watching their favorite performers comes at a price.
The first local shack debuted next to the
New York-New York
resort two years ago this month, about a quarter of a mile distance from the arena. Outside the venue's doors, a single "Shackburger" with cheese, lettuce, tomato and "Shack sauce" will cost $5.55. Inside the arena's main concourse, the same burger will cost $7. Other price hikes include $12 for a domestic draft beer and $5 for the crinkle cut fries, versus $2.99 to enjoy them with a view of Las Vegas Blvd.
SkinnyFats
fans, brace. The restaurant known for its happy and healthy split menu just announced its fourth location, opening in the former Ribs & Burgers space at Downtown Summerlin.
The burger restaurant
closed last weekend
after a two-year run at the outdoor shopping mall.
The restaurant's healthy, or "live happy" indulgent menu choices include an all-day breakfast that includes the "Chickawaffadopolis," made with "fried chicken tenders piled high over a buttermilk waffle, drizzled in syrup and sprinkled with powdered sugar."
In Downtown Summerlin, the restaurant promises a menu of kombucha and craft beers on tap as well as liquor and juice cocktails.
LA CAVE WINE & FOOD HIDEAWAY TO HONOR THE KENTUCKY DERBY WITH QUADRUPLE CROWN BOURBON FLIGHTS
Find the spirit of Kentucky at
La Cave Wine & Food Hideaway
in
Wynn Las Vegas
with the Quadruple Crown bourbon flight in honor of the Kentucky Derby on Saturday, May 6.
While the jockeys are vying for the Triple Crown, guests may enjoy a Quadruple Crown bourbon flight, featuring 1-ounce pours of four ultra-premium bourbons: Rowans Creek, Noahs Mill, Jack Daniels Single Barrel and Eagle Rare, priced at $37. La Cave will also show The Kentucky Derby on high-definition televisions located in the bar area.
Reservations may be made online at
www.lacavelv.com
or by calling 702.770.7375.
SLS Las Vegas to Host Kentucky Derby Viewing at Umami Burger, Beer Garden & Sports Book​​​​​​​
On Saturday, May 6,
SLS Las Vegas
invites guests to experience the excitement of the Kentucky Derby at
Umami Burger
,
Beer Garden & Sports Book
with mint juleps, a limited edition William Hill souvenir glass and all the racing action on more than 50 high-definition televisions.
Wagers of $20 or more on the most exciting two minutes in sports will be rewarded with a complimentary Kentucky Derby souvenir glass courtesy of William Hill, limited to one per guest while supplies last. Additionally, Umami Burger, Beer Garden & Sports Book,
Center Bar
and
Northside Café & Chinese Kitchen
will offer $6 mint juleps throughout Derby weekend, Friday May 5 through Sunday, May 7.
The Kentucky Derby offer is valid for hotel guests and visitors with an SLS Las Vegas Rewards card. Registration for the rewards card is complimentary and available at the SLS Las Vegas Rewards desk from 10 a.m. to 10 p.m. on weekdays and from 10 a.m. to midnight on weekends.
SLS Las Vegas visitors will receive free covered parking and valet services. For more information, visit
www.slslasvegas.com
.
Trade your shrink for a drink at
Therapy restaurant
in Downtown Las Vegas with the introduction of its very own hand-crafted whiskey and beer. Made in a local Las Vegas distillery and brewery, the restaurant located in the heart of Fremont Street is selling Therapy Whiskey and Therapy Duck Beer, available now.
Drinkers with a love for smooth, well-aged whiskey will savor Therapy Whiskey crafted at Nevada H&C Distilling Company. Nevada H&C distiller, Aaron Chepenik says, The vintage blend of this whiskey is completely different, which is what ensures a smooth and enjoyable taste at a higher proof. The liquor consists of sweet notes including caramel, rye, dried fruit and oak. Bottles of Therapy Whiskey will be available for purchase exclusively at the restaurant, priced at $99. The spirit will also be offered in cocktails, including the St. Therapy, made with Therapy Whiskey, St. Germaine, peach and raspberry Grand Marnier, grapefruit fruitations and mango, priced at $13.
Therapy continues to stay local with the creation of Therapy Duck Beer, brewed at Able Baker Brewing. Able Baker brewer, James Manos says, This will be the first Able Baker Brewing beer created specifically for another bar or restaurant, and we're thrilled to be doing it for a fantastic venue on Fremont East. The American-gastro style restaurant has created an IPA with a strong, hoppy taste, with a 7.3 percent alcohol by volume. Therapy Duck Beer will be available in 16-ounce draft pours, priced at $8.
Red, white or blue, Therapy has the cocktails for you!
Therapy
restaurant in Downtown Las Vegas will offer patriotic cocktails in honor of Memorial Day from Friday, May 26 through Monday, May 29.
Located in the Fremont East Entertainment District, Therapy will offer the Star Spangled Lemonade, a frozen cocktail made with house-made lemonade, blueberry liqueur and Dos Armadillos tequila, priced at $10. Additional offerings will include the Rocket Shot, made with coconut Malibu rum, Blue Curacao liqueur and grenadine, priced at $5.
Cabo Wabo Cantina,
located inside
Miracle Mile Shops at Planet Hollywood Resort & Casino
, will celebrate Memorial Day Weekend with signature cocktails, drink specials and live entertainment on its Strip-side patio from Friday, May 26 through Monday, May 29.
Cabo Wabo will celebrate with signature cocktails, drink specials, mouthwatering menu items and entertainment. Performing live on the Strip-side patio, Shawn Eiferman will take the stage at 7 p.m. on Thursday, May 25; and Justin Carder will perform at 7 p.m. on Friday, May 26. Drink specials will include Dos Equis and Heineken beer buckets, priced at $21, and signature cocktails including the Vojito, handcrafted with Devotion Black and Blue vodka, fresh berries, fresh mint and lime juice, priced at $13; and the CW Mai Tai, a combination of Sammy's beach bar rum, Sailor Jerry rum, orgeat, orange curacao, tropical juices, grenadine and topped with a float of Myer's rum, priced at $14.
Signature Cabo Wabo dishes will also be available including the signature nacho platter, artisan tortilla chips topped with a house cheese blend, refried beans, jalapeños, cotija cheese, pico de gallo, sour cream and guacamole, priced at $14.95; and the appetizer sampler, served with taquitos, mini chimichangas, wings, cheese quesadillas, nacho skillet, guacamole and salsa arbol, priced at $26.95.
Yusho
Japanese Grill & Noodle House
and
Brand Steakhouse
are on the way out, but one more replacement dining option has been finalized for the future $450 million switcheroo of the
Monte Carlo
resort into
Park MGM
and
NoMad Las Vegas
.
Primrose
will take over a substantial 12,155-square-foot space, just off the yet-to-be remodeled lobby. The indoor/outdoor space will add a second floor with a terrace, also accessible from a new upper level addition to the lobby. The NoMad Las Vegas will offer its own private check-in area to accommodate its 292 guestrooms and suites.
For construction alone, Primrose has allocated $2,133,931 in estimated costs and the remainder of the lobby footprint has also earmarked an additional $2,333,931 in rebuilding costs.
Summerlin
is about to get a taste of Natalie Young's food. The chef behind Eat and Chow in Downtown's Fremont East plans to open a second Eat at 1910 Village Center Circle, inside the home of
the former Jacques Café, the casual American bistro that closed in February
.
The 2,525-square-foot restaurant had room for 70 when it was Jacques Cafe. Another 45 could sit on the patio in Summerlin's Trails Village shopping center.
Young plans to serve breakfast and lunch, just like the original location on Carson Avenue, although the
Las Vegas Review-Journal says
Young may open for dinner on certain days of the week.
For years it has touted itself as the "largest 24-hour café on The Strip," but that claim to Las Vegas fame ended earlier this month. The
Aria Café
had stopped serving around the clock and is now open daily from 6 a.m. to 10 p.m.
The seven-year-old, elevated casino coffee shop features a large menu of casual American dishes and is partially lit by a huge wall of floor-to-ceiling windows facing the resort's taxi stand and neighboring Vdara resort.
The surprise move follows the café placing 44th in
Restaurant Business
magazine's annual list of the highest-grossing non-chain restaurants across the entire country. The
magazine estimated the café
earned $16,860,000 in annual sales, with a $22 average check and served 767,000 individual meals.
B&B Ristorante
, the Italian restaurant from
Mario Batali
and J
oe Bastianich
at the Venetian, is about to go through a renovation. The restaurant celebrates 10 years in Las Vegas tonighton Friday night with a dinner, but the Las Vegas Sun reports that within the next eight months, a renovation is expected.
Batali says that the makeover will make the restaurant more "light and feel a little more bar-y and casual." Cooking will take place in front of the guests as well.
Chin Chin Café & Sushi Bar underwent
a million dollar upgrade
at
New York-New York
last winter and now a series of upgrades will spruce up the resort's 24-hour casual restaurant
America
.
Operated by the Ark Vegas wing of the nationwide Ark Restaurants Group, current permits call for $600,000 to be allocated for construction costs alone. The work will remodel the dining areas and bar and extend to structural and architectural improvements on the weighty 9,764-square-foot space that rests under "the largest topographic map in the country!"
Fifteen months after
confirmation it was on the way
and three years since the
expansion was first proposed
, the
Corner Bakery Cafe
is almost ready to debut on Henderson's Stephanie Street.
Established in Chicago in 1991 and now expanded to more than 190 nationwide locations, the casual restaurant will also install a drive-thru at the Galleria Commons, close to Sunset Station.
The 3,030-square-foot space will serve up a menu of "breads, hot breakfasts, made-to-order salads, sandwiches, panini and pastas" to be eaten on site or to go. Popular dishes include a chicken pomodori panini, the Trio Salad, and a cinnamon creme cake.
Umami Burger, Beer Garden & Sports Book
at
SLS Las Vegas
will raise a pint to a month-long Tap Takeover in May, featuring drafts by Big Dog's Brewing Co.
Five of Big Dog's Brewing Co.'s beers will be featured throughout May, including: Las Vegas Craft Lager, a lightly hopped, crisp and clean American-style lager; Red Hydrant Brown Ale, a deep mahogany brew, rich with caramel malts, tastes of toffee and a hint of English hops; Peace, Love & Hoppiness Pale Ale, a golden pale ale with tropical and stone fruit notes from Mosaic and Amarillo hops; Tailwagger Wheat, a Bavarian-style Hefeweizen with banana accents and clove aromas; and Cucumber Lime Lager, an American craft lager infused with fresh cucumber.
The beers will be priced at $9 for a 14-ounce draft, $15 for a 25-ounce draft and $27 for a 50-ounce souvenir yard. On Tap Takeover Tuesdays, guests may purchase any Tap Takeover 14-ounce draft and receive the second draft for free, limit one per guest.
The Habit Burger Grill
is wasting no time in expanding a stronghold in Las Vegas from its Southern California base. Less than two years after arriving
at the Hughes Center
, the franchise will soon operate five local outposts and finally made a first leap to the Strip.
Yet-to-be announced, Habit Burger will take over the 806-square-foot space on the third-level food court, formerly occupied by
Wendy's
. It joins Johnny Rockets as the only burger-centric options at the mall, once suspected to be a future home for Wahlburgers.
No timetable for an arrival has yet been revealed, but work will soon begin on construction, with an estimated working budget of $316,618.
The world's largest
Hooters
, clocking in at 15,200 square feet, takes its final bow in May. The restaurant, which opened in September 2015, sits inside the Palms and originally took over the long-shuttered Heraea, a female-focused sports bar that barely lasted eight months.
A spokesman for the resort told Eater Vegas, "Hooters will be closing in the coming weeks to make way for exciting new enhancements we are planning for The Palms. We thank the entire Hooters team for being a great addition to the property's food [and] beverage offerings the past few years."
For visitors leaving the
Palms
and heading west,
The Loose Caboose
was a familiar sight on the corner of Flamingo Road and Arville Street. But anyone traveling by recently will have noticed the 18-year old gaming tavern has shuttered and been stripped to the wooden frames.
Featuring a vintage train-themed mural, 24-hour video gaming and a pub menu, The Loose Caboose replaced the former LJ'S Sports Bar & Grill and late eighties nightclub,
Tramps
.
Next for the space will be the latest expansion for
Bourbon Street
, the sports bar concept created by Nevada Restaurant Services Inc., the parent company behind gaming parlor operators
Dotty's
.